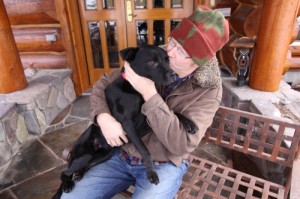 What is Revitamal's active ingredient, how does it work, and who makes it? Those are the most common questions I was asked after I shared in a recent post how my dog Gracie had become much more agile and energetic after I started her on the supplement.
I asked the manufacturers of Revitamal to respond to those questions, and here's what they had to say:
Q: In the list of ingredients, you include something called "FulleLifeTM." What is it, and what does it do in the body?
A: We get this question a lot! FulleLifeTM is a supramolecular natural phytocomplex. Many phytocomplexes occur in nature, and they are unique to the specific region where they are found, but not all of them have beneficial health effects. Sometimes we're asked what the ingredients are in our phytocomplex. The difficulty with that question is that there are no ingredients in a phytocomplex, per se, because they exist in nature as a single unit comprised of many biologically-active substances. FulleLifeTM is a pure, standardized analog of the class of remedies derived from "mineral pitch" such as Shilajit long used to treat various degenerative conditions related to aging, inflammation, and chronic disease.
Q: On the Revitamal website, you mention studies supporting the science behind it. Could you discuss and identify a few of the most relevant studies?
Since phytocomplexes have been used for millennia to successfully treat many degenerative conditions, there have been many investigations validating specific benefits. The following 10 studies are representative of the literature, and support the safety and efficacy of these natural substances.
S.P. Agarwal, et al., Shilajit: a review, Phytotherapy Research, 21(5), 2007, 401-405.
S.K. Bhattacharya, A.P. Sen, S. Ghosal, Effects of shilajit on biogenic free radicals, Phytotherapy Research, 9(1), 1995, 56-59.
D.K Surapeneni, et al., Shilajit attenuates behavioral symptoms of chronic fatigue syndrome by modulating the hypothalamic-pituitary-adrenal axis and mitochondrial bioenergetics in rats, J Ethnopharmacol,143(1), 2012, 91-99.
S. Bhattacharyya, et al. Beneficial effect of processed shilajit on swimming exercise induced impaired energy status of mice, Pharmacologyonline, 2009, 817-825.
G.L. Carrasco-Gallardo, R.B. Maccioni, Shilajit: a natural phytocomplex with potential procognitive activity, Int J Alzheimers Dis., 2012, 674142.
A. Rege, P. Juvekar, A. Juvekar, In vitro antioxidant and anti-arthriic activites of shilajit, Int. J Pharmacy Pharmaceut. Sci. 4(2) 2012, 650-653.
N.A. Trivedi, B. Mazumdar, J.D. Bhatt, K.G. Hemavathi, Effect of shilajit on blood glucose and lipid profile in alloxan-induced diabetic rats, Indian J Pharmacol., 36(6) 2004, 373-376.
S.K. Bhattacharya, Shilajit attenuates streptozotocin induced diabetes mellitus and decrease in pancreatic islet superoxide dismutase activity in rats, Phytotherapy Research, 9(1) 1995, 41-44.
R.K. Goel, R.S. Banerjee, S.B. Acharya, Antiulcerogenic and anti-inflammatory studies with shilajit, J Ethnopharmacol, 29(1), 1990, 95-103.
J-S. Parka, G-Y Kim, K. Han, The spermatogenic and ovogenic effects of chronically administered Shilajit to rats, J Ethnopharmacol, 107(3), 2006, 349-353.
Not all studies show the same benefit, and some people ask how different studies of the same active ingredients can produce conflicting results. Natural substances can vary greatly in nutritional value based on the region in which they are produced, seasonal variation, the methods used to cultivate or process them, the way they are stored, or the way they are handled, etc.
Our expert team of Ph.D. scientists and clinicians took this foundational research much further through careful study of the differences in efficacy of these compounds. We were able to identify the differences region to region, season to season, etc. and found why they sometimes work and other times fail to provide benefit. Through careful selection of ingredients, process monitoring, and rigorous quality assurance we are able to guarantee the results in every bottle. We even back it with a 100% satisfaction guarantee.
Q: Who are the scientists behind the development of Revitamal? How did they become involved with its development?
The initial research that resulted in the discovery of FulleLifeTM was begun by Dr. Bevan Elliott in 2002 and spanned more than a decade. Dr. Elliott became fascinated by reports of incredible health benefits from certain compounds and discovered that the active molecules in these compounds exist in nature in a more complete form that is safe, that yields no harmful side effects, and even that shows significant anti-aging effects. After an in-depth laboratory study, Dr. Elliott was able to identify and concentrate the most effective combinations of these active natural phytocomplexes, uncovering the mechanisms responsible for their health benefits.
. Elliott and Mr. Jonathan Griffith began their collaboration investigating specific applications of advanced materials in 2002, and Dr. Marcus Gitterle, an expert in anti-aging medicine, joined discussions with Dr. Elliott in 2010, quickly leading to the final research breakthroughs needed to commercialize the science behind Revitamal.
Dr. Elliott, AdaptoGenerations co-founder and Chief Science Officer, received his Ph.D. in chemistry from Clemson University, has authored dozens of scientific papers in the top peer-reviewed chemistry journals, has co-authored an invited chapter in the Oxford Handbook of Nanoscience and Technology, and holds multiple patents. He has conducted wide-ranging original research in chemistry, nanotechnology, advanced materials, and micro-and nano-electronics for energy, environmental sensing, and biomedical applications.
Mr. Jonathan Griffith, AdaptoGenerations co-founder and CEO, earned a Ph.D. ABD in chemistry from Clemson University, followed by an MBA from Indiana University. Mr. Griffith's extensive professional experience spans diverse disciplines from R&D and nanomaterials and advanced materials chemistry to full-scale manufacturing, and includes process design, scale-up, quality, and administrative positions.
Dr. Gitterle, AdaptoGenerations co-founder and Chief Clinical Officer, is a physician who has been in clinical practice for decades. He is considered an expert in anti-aging, and was one of the first physicians to pass the written board of the American Board of Anti-Aging Medicine. Dr. Gitterle has taught clinical anti-aging and holistic practice methods to other physicians and is the author of Growing Young: A Doctor's Guide to The New Anti-Aging, which focuses on clinically validated, evidence-based anti-aging methods. He is the regional medical director of a team of more than 15 practitioners dedicated to healing complex wounds, and saving at-risk limbs and conducts clinical research related to tissue regeneration, and wound healing in a practice spanning 7 hospitals. Dr. Gitterle began developing nutraceuticals in 1999, and has designed and manufactured nutraceuticals in several categories, including clincally-specific products marketed through physician offices.
Thanks, everyone, for the great questions! And Gracie says "hi"!