It takes a village to save a dog lover, and it helps when you have friends like Petmate to help!
I recounted the story below to a friend who works at Petmate, and was incredibly moved at what happened next. Here's the story:
Teresa has a dear friend, Mark, who has suffered so many tragedies in his life and yet continued to give so much of his time to others. He had a partner who became very ill, and Mark took time from his work as a designer to be with Ron constantly to care for him.
When Ron died, Mark went into a deep depression that lasted a couple of years. Mark's sister then developed cancer, and Mark quit his job in Miami and came to Bonners Ferry, Idaho, to take care of her. She passed around one year ago.
Mark bought a house here and began working on it with his brother, Eric, who had a sudden heart attack and died while they were working together. Now Mark is living with and caring for his elderly mother.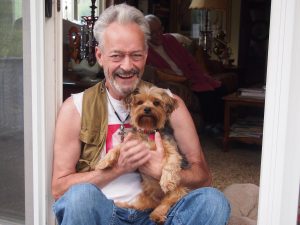 Mark was so lonely, and he loves dogs.  When a dog who would be just the right fit for him and his mother became available for adoption, Teresa and I knew we had to bring them together. The sweet dog's name was Mavis, and she belonged to an elderly woman who had passed away.
Because Mark and his mom are in a tough economic situation, Teresa and I arranged for the adoption and are taking care of any medical expenses.
I shared this story with our great good friends at Petmate, and it turns out they literally showered little Mavis with a cornucopia of toys, supplies, and a snuggly dog bed just for her.
I can't imagine facing a difficult, lonely time in my life without the love of a dog by my side. I'm so glad Mark and his mother won't have to — and that little Mavis isn't alone anymore!
Thank you, Petmate, for your generosity! We know Mavis and Mark are grateful!
Note: I have no commercial relationship with Petmate and this is not a sponsored post.
Save
Save
Save