These are the products I featured in my Facebook Live presentation featuring a roundup of cat food puzzles and games designed to give both their mind and body a workout! You can view the video here.
The remarks below include information from the manufacturers as well as my own comments.
Note: I purchased all these products myself. Nothing was sponsored in any way.
Cat Feeder by Kenley – $22.79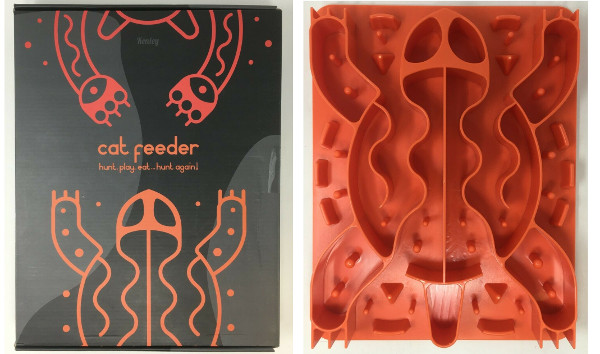 Entertain Your Cat for Hours – Animal lovers at Kenley have developed an interactive treat maze for cats and kittens. Designed to provide entertainment as well as nourishment, this puzzle feeder turns dry food into a fascinating interactive cat toy.
Stimulate Natural Behaviors – Both domestic and wild cats are used to hunting, problem solving, and working for their dinner. Without this outlet, cats can become bored, anxious, and stressed. The Kenley puzzle cat food bowl encourages pets to practice hunting, giving them a tangible reward for being active.
Prevent Overeating – Many cats rush their food or eat too much. This Kenley slow feeder cat bowl makes snacking a challenge, encouraging pets to consume a more moderate amount and to eat more slowly. This can help with portion control and also timing if you need to leave food down while you are out.
Tip – Vary the location of the dish to create more of a challenge.
Buggin' Out Puzzle & Play by Petstages & Nina Ottosson – $19.99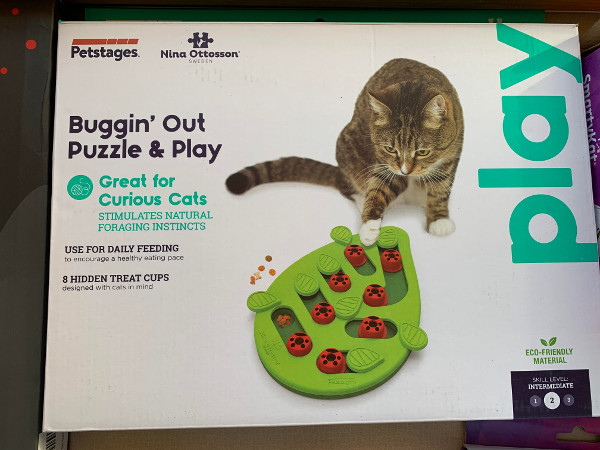 Your smarty cats will love the challenge of the Buggin' Out Puzzle & Play by Nina Ottosson. Cats bat at the pegs and swivel the leaves to uncover the 16 hidden treat compartments. Adjust the difficulty of the puzzle to make it easier for beginners or more challenging for super smarty cats. Feed your cat from the puzzle to engage their hunting and foraging instincts; the puzzle holds up to a quarter of a cup of food.
Start simple: When introducing a treat puzzle to your cat, fill compartments with tasty treats or food and leave them uncovered and visible. Place the puzzle where your cat usually eats and have patience! Cats like to investigate new things several times before deciding if they want to engage with them.
Increase the difficulty: When your cat feels comfortable eating from the treat puzzle, the next step is to cover the food so that it is still a little visible. When your cat understands how it works, make the puzzle progressively more difficult by covering the treats or food according to the instructions.
Tip – Use some small amounts of tuna or turkey to give big lotto win at start.
SlimCat Feeder Ball by PetSafe – $6.95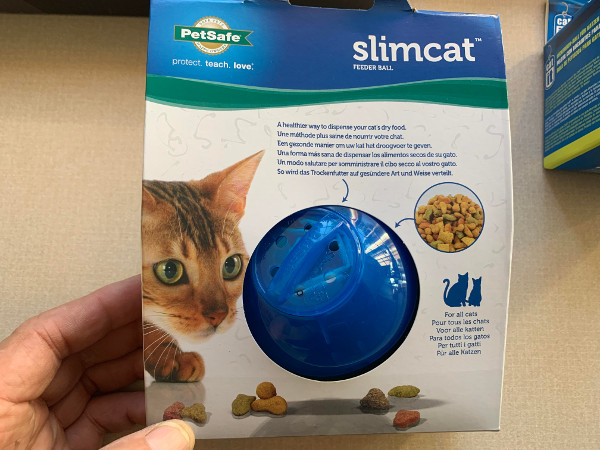 Enrichment: Watch your cat's natural instincts come alive as she chases the SlimCat across the floor.
Exercise: Combines mealtime with exercise to improve weight loss and fight obesity.
Personalization: Convenient adjustable openings work for many kibble sizes and allow you to control how quickly your cat gets her food.
Tip: Close up hole to just use as a ball.
Doc & Phoebe's Indoor Hunting Cat Feeder – $14.46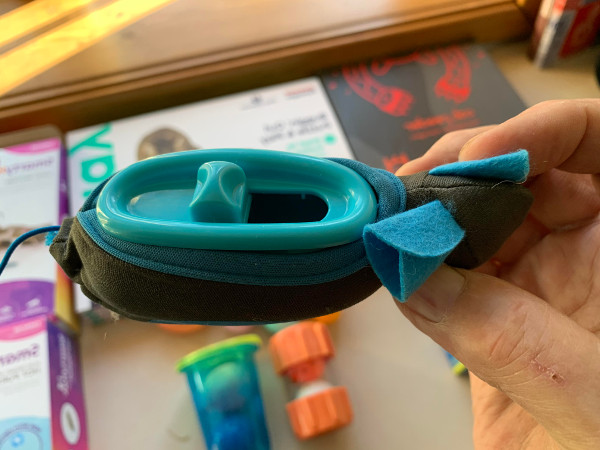 The bowl-free hunting feeder is designed for your cat`s health and happiness.
Award winning veterinarian design.
Prevent boredom & help your pet maintain a healthy weight.
Tip: Cats should be fed twice a day.
Catit 2.0 Digger Interactive Cat Toy – $14.99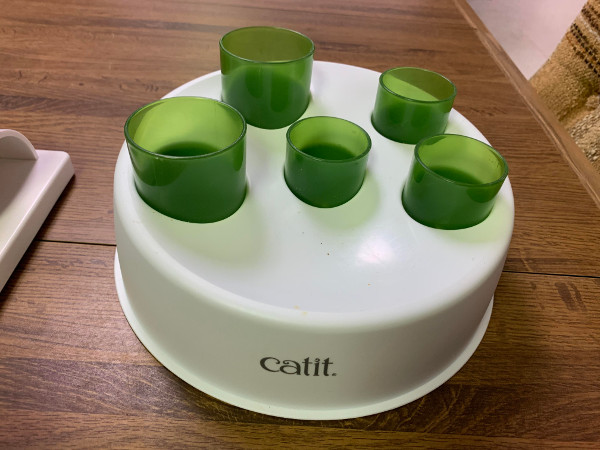 Encourages cats to work for their dry food/treats in a fun and natural manner. As cats are true hunters, they need to be able to search and locate food in different locations around the house; this cat feeder toy incorporates this idea with a design that activates your cat's natural foraging behavior during playtime.
Hiding dry kibble or treats in the Digger's multiple tubes plays on a cat's instincts to sniff and paw, while also acting as a cat slow feeder so they eat smaller portions.
Tip: Put small balls into tubes so cat has to remove to eat kibble.
Catit Hagen Cat Treat Ball – $8.67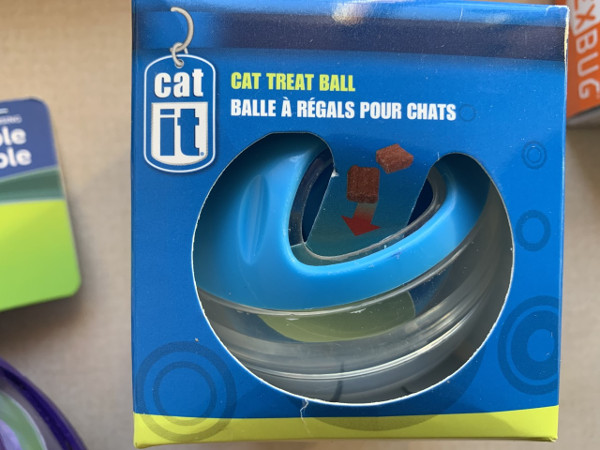 Treat dispenser and toy ball all-in-one.
Provides your cat with a treat for working hard.
Tip: Use with catnip, too.
Trixie 5-in-1 Cat Activity Center – $33.26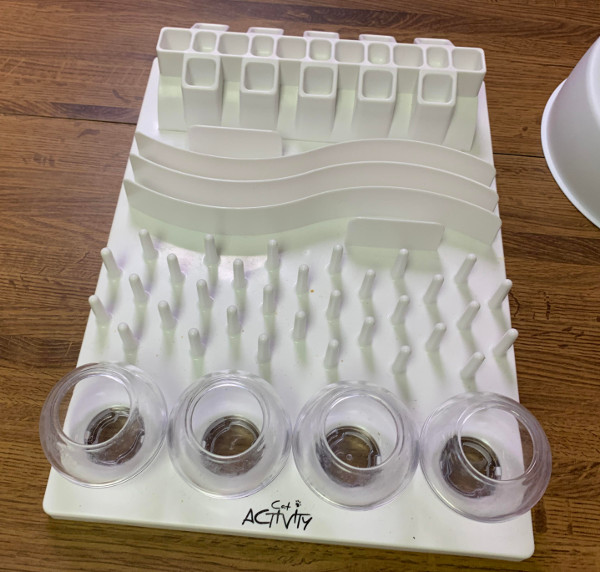 Provides your pet with a stimulating and fun interactive experience.
Satisfies your cat's natural curiosity; sharpens focus and concentration.
Change number and placement of treats to vary difficulty.
Tip:  Vary the location of the dish to create more of a challenge.