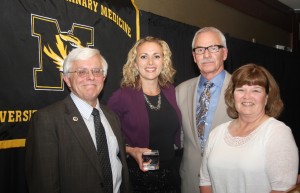 The path to becoming a veterinarian just became a little easier for 27 veterinary students, thanks to scholarship awards from Bayer HealthCare Animal Health.
In recognition of the critical importance of clear and effective communication between veterinarians and the owners of the pets we treat, the scholarships were awarded to those veterinary students who showed excellence in communication.
The national winner, deemed best out of all students in consideration, was Katherine Nadolny, a senior at the University of Missouri's College of Veterinary Medicine. She receive the second annual Bayer Excellence in Communication Award (BECA).
"The Bayer Excellence in Communication Award fits in seamlessly with the University of Missouri's curriculum, which emphasizes the importance of effective communication in a clinical setting," said Nadolny.
"This experience has reinforced my commitment to build upon my communication skills as I look to graduation and entry into the veterinary profession. I want to thank everyone at Bayer for their continued support of the veterinarian community and I encourage all students to practice open communications with their clients."
As a veterinarian who speaks at veterinary conferences and colleges all over the world, I know how important it is to support our next generation. Thanks to Bayer for believing in veterinary students!
Photo, left to right: Dr. Neil C. Olson, Dean, College of Veterinary Medicine; Katherine Nadolny (Winner); Dr. Ronald Cott,  Assoc Dean for Student & Alumni Affairs; Dr. Adrienne Willette, VTS – Bayer