Sergeant Omar Pena of the United States Marines has asked the American Humane Association, on whose board I am proud to serve, to help bring home Mariah, the war dog he trained and worked with in Afghanistan searching for improvised explosive devices.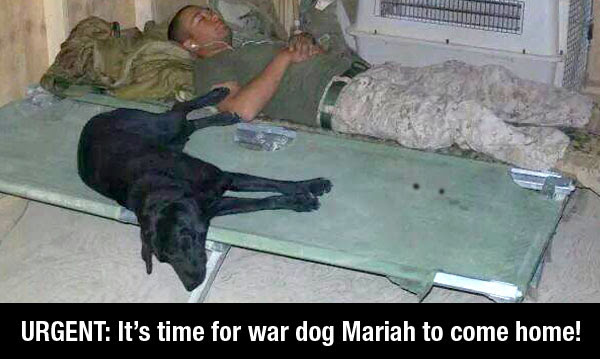 "She kept us alive back then," he said. "She served her country long enough and it's time for her to be a regular dog…play with kids, and be in a loving family."
Now AHA needs your help to make it happen:
We at American Humane Association agree, and are working with Mission K9 Rescue to bring Mariah home in a matter of days so she can enjoy retired life in El Paso, TX with Sgt. Pena and his family.

Mariah did so much for Sgt. Pena and his fellow soldiers while in Afghanistan. On the battlefield she kept them safe, identifying areas of possible IEDs to clear safe passages for the soldiers. And when they weren't on patrol, Mariah brought much needed morale to the platoon, knowing when a soldier needed a "hug" or "cheering up."

"She was a Marine to us," Sgt. Pena recalls, "a sister, and not just an animal to use at our disposal."
Your donation will help bring these two heroes back together. Please give here!