One look. I knew. It was time. Time for Quin'C to be in a better place. No. The best place: Heaven. I truly believe all dogs go to heaven.
There are things we'll never know about Quin'C. No sounds, I bet not even an artillery blast, would faze him. He was the shadow of whoever was outside or inside. And he had a "carry an egg" mouth. Whether I gave him Beggin' Strips, a choice cut of my ribeye steak I saved from the Feist Creek restaurant, or one of six meds he was on for his cancer treatment, he always had the softest mouth. With his outward appearance, acceptance of noise, invisible leash closeness, and a tender mouth, had he been a working retriever in an earlier part of his life? We'll never know.
We don't even know what his mom and dad looked like, where he was born, what he was like as a puppy. Nor who his first family was, or if he was abandoned or surrendered and adopted. We don't even know how old he was or the names or nicknames he knew during his life.
Our knowledge of his life started with him being found on the streets of Kansas City, Missouri, apparently battered from being hit by a vehicle. This 60-pound dog, who was largely white with black spots and looked like a pit bull/retriever/Dalmatian mix, was elderly, an intact male, and had the typical road rash of an accident and a large lump on his head.
No one came forth to claim this no-name old man at the shelter, and his chances for adoption when competing with puppies and healthy looking dogs were slim to none.
But someone did come for him and gave him the proverbial "new leash on life," an amazing vet tech program I've come to love.
The old guy was rescued on August 22, 2016, and taken to tbe Metropolitan Community College-Maple Woods Veterinary Technology program, where he became part of their adoption program. They give the dogs they take in much-needed veterinary care and behavior rehab as part of the training their future veterinary technicians receive. (Even more than my fellow veterinarians, the people I most admire in a veterinary practice are veterinary nurses).
It was there the solemn trooper was delighted to be loved and given TLC. In fact, the black-and-white dog with the droopy eyes and prominent hip bones became an instant class favorite. When I asked them why he was so loved, they said it was like describing love, something nebulous but easily understood by anyone who's felt it. When I pressed for descriptives, they said, "accepting," "understanding," the "embodiment of companion."
My daughter, Mikkel Becker, and boarded veterinary behaviorist Dr. Gary Landsberg, were teaching a Fear Free animal handling and behavior modification class at Maple Woods as part of the CVC Veterinary Conference in Kansas City. My wife, Teresa, was helping with the class on Saturday, August 27, only five days after the dog, then named Sterling, had come into the program.
The spotted dog had big, droopy eyes and could maintain eye contact until you had to look away or more often, just touch or hug him. If Sterling was a vehicle on a car lot, his curb appeal was poor. Scrapes and open sores all over his body, and a huge, almost cartoonish, lump on top of his head. He'd have rusted out on the back row of the dealership.
Teresa found out that of all the dogs in the program, he was the only one who hadn't yet been paired up with a vet tech student. She was amazed at how easily he went through the Fear Free training; he was very obedient and trying so hard to please.
Sterling loved the attention that Teresa and others showered on him, but you had to look hard to see it. If visualizing one of those dog-poker photos, Sterling would be the one holding all of the chips with his poker face. Teresa told them we'd adopt him before circling back to get my approval. This was notable, as Teresa's not prone to spontaneity, and in our almost four decades of marriage  it's always been me who adopted first and asked for permission later.
As soon as Teresa found me at the end of the day, she excitedly talked about him and asked about bringing him home. She said she knew my brain would follow her heart (remember, she'd already told them we'd adopt him).
Sterling couldn't leave with us immediately for a number of reasons, inlcuding the fact that he was scheduled to be neutered and microchipped, and have a histopathology (microscopic examination) of the tissue taken from the lump on his head. The neuter went off without a hitch, but the removal of the mass started the beginning of the end for the canine senior citizen. The lump on his head was a malignant cancer. To top it off, he started seizuring. The two things, on his head and inside his head, would end up being connected. And fatal.
Did his unfavorable diagnosis change our decision to adopt him? Not for a passing second! Our decision and desire to give him the home and love he deserved only grew. With appropriate medications and bathed in prayer by our family and loyal online pet community, his seizuring let up enough to once again allow our angel-on-a-leash to finish his recovery at Maple Woods while we put arrangements togther to bring him home.
Once back in Bonners Ferry, Teresa started thinking of names. Following the trend of all our dog's names starting with a "Q," he was crowned "Quin'C."
Joan Gorman, who heads the vet tech program at Maple Woods, has worked in the veterinary profession for decades. She played favorites and let Quin'C lye at her feet at her desk. She told us his mime-esque silence was finally broken when he met a doggy friend who helped him heal as he simultaneously helped her to overcome what first appeared to be an insurmountable fear of people and life around her.
That friend had only recently come into the tech program. She was a large, female dog who had been obviously abused. In veterinary medicine, we grade dog's body condition from 1 to 9, with 1 being almost skeletal, 4 ideal, and 9 morbidly obese. This dog was 1.5; horrifically underweight.
But worse than the outward appearance was the internal abuse. Reports were that this approximately 2-year-old, intact female mix (Pit/Boxer?) had been chained in the backyard her whole life. She was purportedly rescued from her situation by Kansas City Animal Control and police officers. This dog, who was being called Eclair at the shelter, was completely shut down emotionally, in a state of terror known in both human and animal behavior as "collapsing immobility."
You may have seen it in the little boy who was frozen in shock on the steps of an ambulance in Aleppo, or even your own pets on the exam room table at the veterinarian. They're not relaxed and resting; they think they're going to die. That's where Eclair was trapped, not eating despite her starved condition.
With the loving care of the nurses-to-be, she managed to overcome the paralysis of fear and start eating a little. But the biggest force for healing in her life quickly become Quin'C. And she had an equal impact on him.
Before Eclair arrived at Maple Woods, Quin'C had never barked or played. He had never had a four-legged friend while he was there. But it was love at first bite as Eclair would nibble his neck and hocks, and together they would wrestle, chase, and bark.
Bark! This was the first time any of the nurses had heard the old man let out a sound. When we heard about this love affair, we knew we were going to have to keep this pack of two together, and let them both join their two brothers, Quixote and QT Pi, and two sisters, Queen Gracie and Quora, at our 150-acre Almost Heaven Ranch in extreme Northern Idaho. Our sixth Q, Eclair, would forever be known as Quill'N.
Finally we had transport arranged. Hundreds of thousands of pet lovers were watching on Facebook Live when my son, Lex, and I arrived in Rapid City, two days after Thanksgiving last year, got in our rental van at the airport, and arrived at a local hotel to meet three loving veterinary nurses who had driven hundreds of miles from Kansas City to deliver our new family members.
The driver of the vehicle was Nicole O'Conner, who had been Quin'C's dedicated, loving and loyal guardian (she got him to play with the tennis ball). Accompanying Nicole and the Qs were three other Maple Woods veterinary nursing students, Jennifer Fletcher, Hope Roeder, and Mary Combs.
Over two days on the way home, Lex drove while Quill'N spent almost the entire time in my lap on the passenger side front seat while Quin'C stood looking out the windshield between the seats. We drove 861 miles from Rapid City to Almost Heaven Ranch with me worrying over whether or not Quin'C and Quill'N would know it was their home.
We live in the mountains half way up a mile-high mountain and have no fences on our large ranch — which borders hundreds of thousands of acres of State and National forest — except for the five-wire electric fence that forms our horse pasture. Would they fail to understand their home range when out and about with us, and have to be leash walked at first? Would they get along with our other four dogs and three cats? Would they chase our horses or the abundant wildlife that calls AHR home, especially the deer who struggle in deep snow?
Well, thanks be to God, because they never once left the house, garage, horse barn, or corrals — the part that's "home" on the ranch. Nor did they chase deer. They just settled right in like they'd lived here their whole lives.
The new Qs arrived at AHR on November 27, 2016; it was my 62nd birthday. While Teresa rushed out of the house to hug and kiss the new Qs when they took their first steps in Idaho, it was apparent almost immediately that Quin'C was going to consider me "his dog."
Maybe this had to do with the fact that I fed him all sorts of forbidden treats on the road trip, let him sleep in bed with me at the hotel on the road, and had learned that he loved the base of his ears rubbed hard. All I know is wherever I was, so was Quin'C, always following quietly, just a step behind me. Mikkel likened the dogs' following of me to disciples closely trailing their leader, Quin'C being my most devoted follower of all, responding as if my shadow itself was his sacred ground.
The massive railroad-track scar on Quin'C's head was a constant reminder that he had a serious health issue that needed addressed. But I made a conscious decision as his buddy and veterinarian to let him enjoy his first Christmas with us, after which we'd attack his cancer with guns blazing.
So from Thanksgiving leftovers, and Christmas meats, to all-you-can eat horse apples, Quin'C feasted, played, had short road trips, posed by the Christmas tree, even took part in the video of the "All Dogs Choir" filmed in our garage. We joked because no matter what we did to or with him, ranging from dressing him up like a Santa's Elf, howling in unison on a video, or throwing him steaming chunks of turkey, his beautiful "Ol' Poker Face" would never, ever change expression (although his tail would give him away when he got excited; it never beat really fast, but rather like a conductor's baton with the slowest beat imaginable).
And, don't ever tell the other five Qs, but I always gave Quin'C extras. (QT Pi would kill me if he ever knew, so promise to keep this secret between us.)
On January 19, 2017, we took Quin'C to the Washington State University College of Veterinary Medicine (WSU CVM) — my alma mater — to see highly respected oncologist, Janean Fidel, DVM, MS, DACVIM, DACVR (boarded in both veterinary oncology and radiation oncology). Senior veterinary students always admit pets, do the first exam, and then consult with the appropriate faculty member (in this case. Dr. Fidel), but I was amazed to find that the senior veterinary student who had asked to see Quin'C and me was Jessica Villm, the daughter of Deb and Tim Villm, two amazing veterinarians who used to work with me in veterinary practices in Salt Lake City.
Quin'C was there all day, having a battery of diagnostic tests that included blood chemistry profiles, cytology, radiographs, ultrasound, and a CT scan. When Dr. Fidel and Jessica came in to go over the diagnostic test results, I took one quick look at their faces and I knew it was bad.
And it was. Mast cell tumors don't spread that often, but Quin'Cs was super-metastatic and had spread everywhere, peppering his body with tumors, especially in the liver, spleen, lymph nodes, and the brain. Now we knew the cause of the seizures.
Just like you can't remove grains of pepper from pepper sausage, it would have been impossible to surgically remove those mast cell tumors or target them with radiation. Chemo was the only treatment available, and I left with a follow up appointment for about a month later (February 16), full well knowing his remaining time would be measured in months, not years.
Unwilling to not give Quin'C every chance, l enlisted the amazing angels we have on our Facebook and my Christ-filled wife and daughter, asking them to join me in asking God for a miracle. Can Quin'C just live to see one of our amazing North Idaho summers, where the sun is warm, the humidity non-existent, the shaded grass cool, the alpine lakes the perfect place to swim, and to see the rocks by our house where dozens of chipmunks live, to make dog's lives the "best" or the "worst," depending on the dog and the day?
I've seen God grant many miracles in my career, what famed veterinary oncologist Dr. Greg Ogilvie described at a recent veterinary conference as "a dog or cat fully healed overnight, despite how fruitless our earthly efforts had been." But I had a feeling that we'd better start fulfilling Quin'C's bucket list, so on the way down to WSU CVM we stopped at a local drive in chain called Zips, and I got my beloved old man a piping hot jumbo corndog, and a triple scoop ice cream cone. On the way home, with a sack containing a total of six medications Quin'C would be on, including the powerful chemotherapeutic agent, Palladia, we did a bounce-back visit to the same Zips and ordered the same menu items. The videos I took of Quin'C eating the corndog off the stick and taking huge laps of ice cream will always be treasured by my family.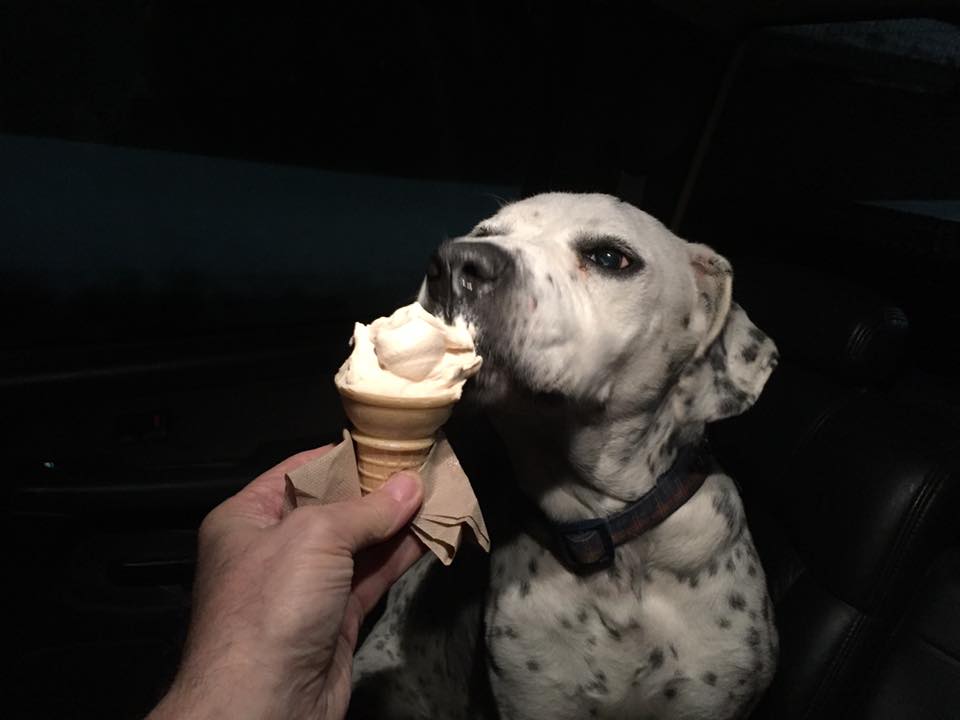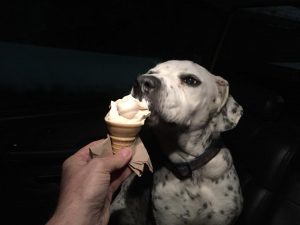 Once back home, Teresa put together an outline so that we knew what meds to give Quin'C morning and evening. We left for a long-planned trip about three days after Quin'C got home, so our neighbor and animal lover extraordinaire, Nate, was shown the meds and the nitrile gloves (the Paladia couldn't be handled with bare hands), and was tasked with taking Quin'C into the local Bonners Ferry Veterinary Hospital weekly for blood checks to make sure the treatment wasn't taking too much of a toll of this senior's body.
What wasn't on the schedule but what Nate does naturally, is give Quin'C as much love and attention as he could consume. Per his modus operandi, Quin'C followed Nate everywhere he went around AHR, always just a step behind. While we were in sunshine, Nate and the Qs were snowed in and homebound as record snows in Northern Idaho were close to almost five feet deep. Nate kept busy shoveling snow away off the decks and sidewalks and shoveling treats and meds into Quin'C.
What was invisible but pilling up like snowflakes and snowballs inside of Quin'C were mast cell tumors. Quin'C would not see a North Idaho summer. In fact, he wouldn't see the end of the month. Or the week.
When I got back from lecturing about Fear Free veterinary visits at the world largest veterinary conference in Orlando, it was less than five months after Teresa first laid eyes on him at Mikkel's animal handling class at Maple Woods. But when I looked in his eyes, I knew: It was time. Time to make the call that all pet owners dread.
Teresa called the first thing Saturday morning, and Bonners Ferry Veterinary Hospital scheduled my friend and colleague, Dr. Chad Burt, to come out that same day at 1:30 p.m. and give Quin'C the final grace. Saturday morning would be for saying our goodbyes.
At one point, I became so emotionally exhausted that I told Teresa I was going to go to sleep (in my almost 63-years of life and 39 years of marriage, Teresa knew this was a first). I turned on the fireplace, got in a recliner in my den and closed my eyes. It wasn't a restful sleep as the "what ifs" started flooding my mind. What if we'd have started treating Quin'C's cancer immediately upon getting him to Idaho, what if we'd taken him to see Dr. Ogilvie, what if …?
In an earthly blessing, my beloved distemper survivor and shelter spokes-dog, QT Pi, flew up into my lap and gave me a face washing and tonsil swab before setting into my lap like a 15 pound, 101.5-degree hot water bottle. Teresa said I slept for two hours, and when I woke up, I went straight to Quin'C.
Except for about 30 minutes when I gave a tear-filled Teresa time to say her goodbyes, I spent the next two hours lying next to Quin'C, talking softly into his left ear, kissing his face, stroking his cachectic body, and for some odd reason, giving him the single most exhaustive physical exam I've given any pet ever.
I looked into his soft-brown eyes that he'd open momentarily when I told him that he was a "really good boy"; looking not just into his eyes, but deeply searching his eyes, down to the coloration of his iris as if trying to read his mind and learn how he was feeling, whether he was suffering.
Then at each nostril, paying special attention to the ridges and valleys which are individual, just like our fingerprints. Then each toe, toe nail, and foot pad. I ended on his face with each whisker, his warts, whirls of hair, and distinctive markings. I saw many things I'd never stopped long enough to notice before, and told Quin'C that I was going to use this unexpected exercise to pay even closer attention to not only the remaining five Qs, but to all of my patients for the rest of my career. I promised Quin'C I'd think of him and thank him every time I gave just that little bit more in the exam room.
At 1:30 pm sharp, Teresa took all of the other dogs inside. At the same moment, Dr. Burt pulled up. I was sobbing because I knew that his arrival meant Quin'C's departure, but I noted something odd. Normally when somebody pulls into our driveway, all of the dogs bark their lungs out. In fact, we call the small dogs the 16-pound doorbells.
But they never barked a single time when Dr. Burt drove up, while he was at our home, or upon departure. You may call this a coincidence, or perhaps just the effect of the dogs being distracted. But it's far too coincidental to be mere happenstance. Just over one year prior my Grand-Pug, Bruce, also lost his battle with cancer. Just as with Quin'C, Dr. Rolan Hall (from the same veterinary hospital) came to our house to send him humanely and kindly up into doggy heaven. Just as happened the first time, none of the dogs made a single vocalization; neither as the truck drove up, nor as Dr. Hall made his way into the house where Bruce lay next to my daughter, Mikkel, Granddaughter, Reagan, and son Lex.
The dogs' response on both occasions was as if they 'knew' something significant and worthy of due quiet respect and was about to take place. Just as I kept trying to stare into Quin'C's eyes to decipher what he was thinking, so too do I look into these moments with humility and awe, realizing the depth and capacity of a dog to understand and feel that completely surpasses human comprehension.
That afternoon I walked cautiously toward Dr. Burt's truck, through streams of tears and across a solid sheet of ice on the ground. We met in a bear hug, vet-to-vet, no words; we just hugged and held. I really needed that, and will never forget those 120 seconds of understanding and comfort.
Blubbering, I walked to the back to the Bowie box to witness the door opening and the tray pulled out that contained the bottle of Euthasol. This light red fluid contains pentobarbital sodium and phenytoin sodium. It's very familiar to anyone who works in a veterinary practice or shelter. He asked me how much Quin'C weighed, and I said about 50 pounds; he'd lost weight. I asked him, though, to draw up extra, as I didn't think his liver was working normally; the liver needs to function for the euthanasia drugs to work. We also agreed to give Quin'C a strong sedative so that he would be in deep rest and accepting of the injection that would end his suffering.
Dr. Burt and I talked about how hard it is for veterinarians to lose one of their own pets, even one who had just been part of our lives for a short period of time.
I know pet owners can't believe that anyone could grieve more than you do when you say goodbye to a four-legged family member. But deep inside me, I would tell you that you can, if you work in a veterinary hospital. Why? Because in a career, you've been privy and partner to the passing of thousands of lives. Some pets have major accidents — hit by a vehicle, a dog mauling or overt abuse such as being set on fire — and die in agony. Others reach the last chapters of their lives and begin a peaceful decline until drawing their last breath.
We're there when pets die naturally, and when we give them the gift of a "good death" to go with a "good life." In each case, you grieve for the animal and then mourn with the family. But no matter how emotionally connected you become in the exam room, comfort room, or farm stall for that short period of time, next thing you know it's time for another office visit. If you're lucky, you get smothered with puppy kisses and get to smell puppy breath. That's a great perk, but it still means you can't fully go through the steps of grief with a grieving animal owner, so it just builds up and builds up, waiting to burst forth when it comes time to say goodbye to one of your own pets.
For me, it's even worse. When I first got out of veterinary school and started my first week of practice in June of 1980), I was approached by a volunteer at the shelter in Twin Falls, Idaho. When I say approached, I was almost assaulted, as former flight attendant Bobbi Wolverton, got about 6 inches away from my face and passionately shared the horror of the dogs and cats at the local shelter being euthanized by being gassed to death by carbon monoxide in what looked like a giant aquarium.
Basically, CO2 was pumped into the chamber, and the dogs and cats died of suffocation; it takes a long time to take effect, so there is almost unfathomable suffering. Seems Bobbi had been trying to get the local veterinary community to help, but I guess it wasn't a priority for any of them. None of them had even visited the shelter, I was told. I know when I went to the probably 75-year-old lava rock building about six blocks from Twin Falls Veterinary Hospital, I didn't even know what being "gassed to death" meant. I entered the door and my jaw dropped and I had to fight vomiting as I saw a writhing mass of dogs fighting for a last breath.
Appalled, I rallied the local veterinarians and got them to agree to join me in humanely euthanizing the dogs and cats, just like the gift we were giving Quin'C. But one by one, the hectic realities of all their practices and lives got in the way, and soon I found myself the only veterinarian in the area willing to donate my time to euthanize these precious pets (know this was decades before the "no-kill" movement). I probably euthanized a 1000+ dogs and cats before we trained the shelter staff to do the euthanasia themselves.
Almost four decades later, I still remember many of the pets on the table about to have their heart pump one last time, eyes close, and go to heaven. But one dog is never far from my mind, and I thought about her as I had my head by Quin'C's, minutes before his life-ending IV.
She's the dog I nicknamed "G.H." for Good Home and wrote about in a story called "Killer Angels" in a book I coauthored, "Chicken Soup for the Dog & Cat Lover's Soul."
In a Cliff Notes version of the story, G.H. was lifted up on the table at the Twin Falls Shelter by a shelter worker. On the table, the dog's gaunt frame wiggled as I spoke some soft words to her. Her tail beat a quick tempo and she literally offered me her right front leg to inject the euthanasia solution. Starting to execute the procedure I was trained to do, I hit the vein on the first try, pulled back on the syringe's plunger to make sure I could draw back blood, saw the dark red backflow, and for some reason hesitated just a moment.
I looked in the dog's eyes, something that is normally threatening and certainly not something you want to do at a time of such extreme fear, anxiety and stress. We locked eyes, and she forced herself out of the grasp of the assistant and started licking the hands that we're poised to use to end her life.
I pulled out the syringe and collapsed onto the dog and bathed her in tears as I held her tight. Never, ever again would I do a convenience euthanasia, and I would dedicate my entire life the helping as many pets and other animals as possible live happy, healthy, full lives. G.H. lived joyfully and long on a small ranch in Southern Idaho, where I got to see her many times for routine veterinary visits.
For Quin'C that day, the sedatives had done their blessed work; he was so relaxed he was snoring. With each exhale, his lips puffed out and you could see that there was still a nice pink color to his gums.
I rolled the vein for Dr. Burt and he effortlessly hit the left cephalic vein and drew back blood. He was in. He looked up at me and though my Niagara of tears and gasping to catch my breath, I nodded. A slow and measured amount of Euthasol was soon coursing throughout the Quin'C's body. Because his liver was so infiltrated with cancer cells, the process probably took 20 seconds instead of 5-10, but I saw him take his last breath and felt his last heartbeat. In those last 20 seconds, I kept my face pressed to his, taking in his unique smell and softly telling him over-and-over, "You were loved…you were loved…you were loved."
The stethoscope confirmed it. Quin'C was out of our hands and into God's loving embrace.
I carried Quin'C out to the back seat of the Dodge pickup; the vet hospital will keep Quin'C until the five feet of snow melts over our dog graveyard, and the ground thaws so that our neighbor can dig his grave with an mini-excavator. Then we can lay Quin'C to rest next to Scooter, Sirloin, LLLucky, Mr. Teddy, Shing-I, Bruce, and Shakira. Upon shutting the pickup truck's door, I went back into the house and Teresa and I just held each other and cried and cried.
Teresa had happened to be on the phone with our daughter, Mikkel (who inexplicably called just as Quin'C was passing), before she hung up to be with me. I tried to call our son, Lex, and tell him about Quin'C's passing, but overcome with grief, ended up unable to talk. Teresa with her amazing faith and strength took the call so that we could share the moment with family.
Still in extreme grief, I called the mobile phone of my communications director and friend, Christie Keith. I didn't want the gut-felt emotion gushing forth to pass before talking to her and reconfirming our decades long fight to help shelter pets find homes, reduce fear, anxiety and stress in animals (Fear Free), help the pets of pet owners of limited financial means receive veterinary care (A Fighting Chance Fund), and fund the Center for the Study of Animal Wellbeing at WSU.
If I'm being honest, I have grieved harder with the loss of pets than of family members and friends (I've never lost a spouse, partner, child or grandchild…and I know that's different). I have heard from "death experts"  that this is common. I was a keynote speaker at a conference in Vegas years ago that featured the owners of both human and pet funeral homes. When they told me people grieved much harder for the loss of pets than people, I must have looked stupefied. They explained that with people there are often negative thoughts of the past, posturing for personal gain, hidden agendas, duplicity, and performances. With pet loss, there's just unconditional love.
I have never experienced grief any deeper than the loss of Quin'C. But I look at it as a blessing. Ninety-nine percent of the time, we go through life without experiencing the highest highs and the lowest lows. When grief strips away all the veneers of our personal and professional lives, you're left with the bedrock you stand on. Our very core, what makes us, us.
So there I was, flayed open emotionally, and I felt burst forth the deep, deep love I have for my beloved wife, Teresa, special children Mikkel and Lex, exceptional Granddaughter, Reagan, and our my newest family member, Son-in-Law, Ben. Exploding out like the other barrel of a double barrel shotgun was my visceral love for and commitment to all animals, but especially pets.
I am a believer. And when Quin'C, on his last day on earth, found his favorite quadruple thickness bed (two doggy mattresses and two heaters) by the back door to the house and lay down early Saturday morning, the sun came up over Tungsten Mountain by our Almost Heaven Ranch. I took a picture as I wanted proof of God's sign, a new beginning on a day with a sad ending.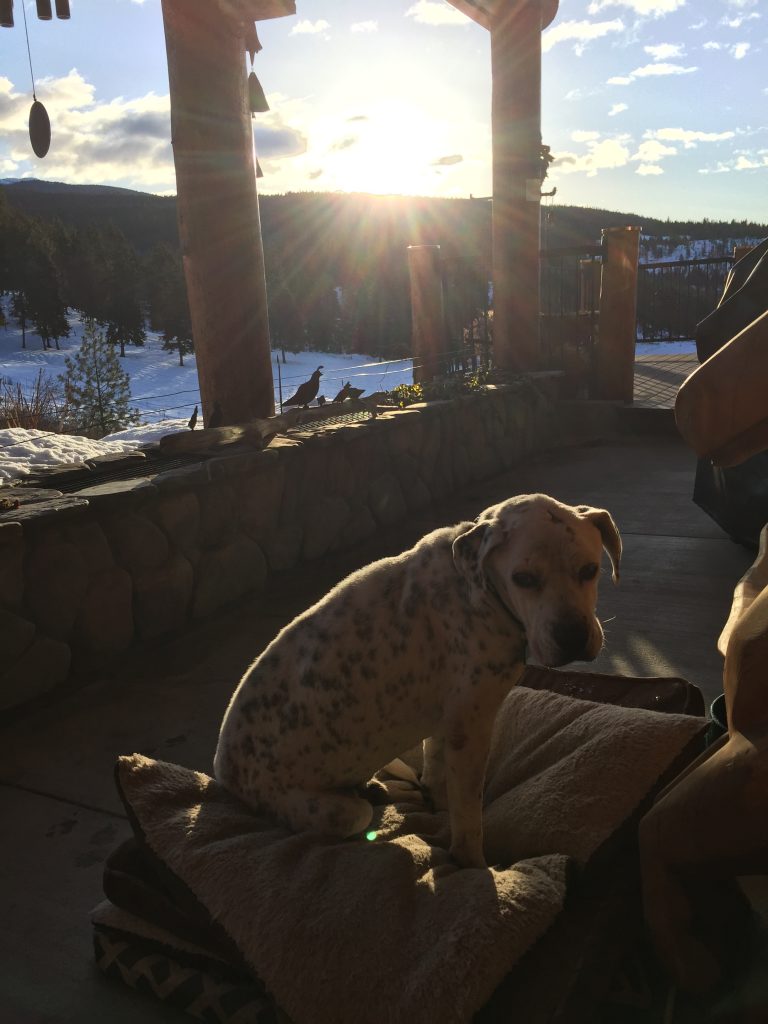 Save
Save
Save