Can a shy dog who has waited two years in a shelter after coming in horribly abused find love and a home? Of course!
A couple of months ago I shared the story of a shy dog who had come into a Connecticut animal shelter with terrible injuries probably sustained in a dog fight. After the shelter nursed her back to health, she waited for two years without anyone wanting to adopt her.
One of her advocates at the shelter reached out to the Shelter Pet Project for help, and they asked me if I could feature her on my Facebook page. I was glad to — especially glad because a man named Steve saw it, and become Charity's hero by adopting her!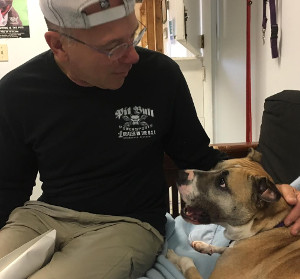 Charity was not a dog you just adopt and that's that. She's needed a lot of gentle training and guidance to adapt to her new life. But there are some things she knows for sure: Steve loves her, and she loves him, and they're a forever team.
Steve has named her "Molly," and the two of them inspire me to keep advocating for the power of the human-animal bond to transform lives.
Thank you, Steve, for making Molly part of your life.  You're a hero, and I'm honored to have been part of your story!
Save