A mama cat and her grown kitten need your help; will you lend them shares, prayers, and maybe — a home?
This is a long post, I won't lie. But I ask you, as a personal favor to me, that you read it and see if there is anything you can do to help two cats who need all the help they can get.
I was contacted by a woman named Lorena, who is a fosterer for a rescue group in the Chicago area. For the last year, she has been fostering a mother cat and her now-grown kitten, who came to her from the euthanasia list at a high kill city shelter when the kitten was just a few days old.
The mama cat, whose name is Tangy, was very ill when she came into Lorena's care, and wasn't taking care of her kitten, who Lorena named Cutie.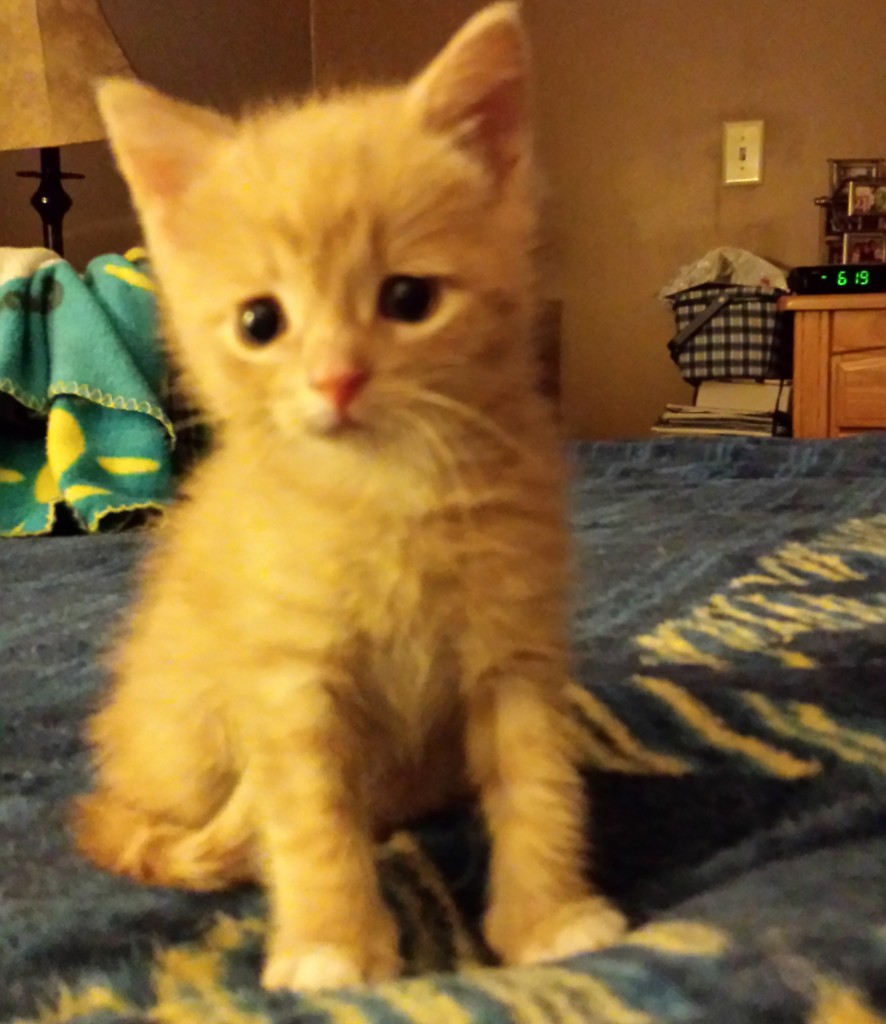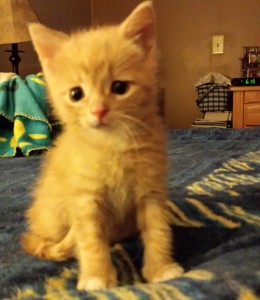 Lorena took on the task of bottle-feeding Cutie until, with medication and her new safe, quiet surroundings, Tangy was able to nurse him.
Tangy turned into a wonderful, attentive mother, and Cutie has grown up into a loving, playful cat who gets along with all other cats and dogs.
Tangy's story is not so simple. Her problems went beyond the respiratory infection that was easily treated; while young and now healthy, she has many missing teeth, as well as old burns on her body, as if someone poured boiling water or chemicals on her. Her veterinarian believes they are the result of deliberate cruelty, although no one knows for sure.
Tangy has a very hard time trusting people, and while she's interacted well with other foster kittens who have come into Lorena's house, she doesn't get along with Lorena's own cat, and hates and fears her dogs. If that wasn't the case, Lorena would adopt them herself.
While Tangy shows affection to Lorena, rubbing against her legs and letting herself be petted, she doesn't like being picked up or held, and all affection has to be on her own terms. She is clearly still nearly overwhelmed with fear in unfamiliar circumstances, hissing and scratching, which makes it very difficult to bring her to the veterinarian. (She is also very difficult to get into a crate, although my trainer daughter, Mikkel Becker, and I will be happy to help with that!)
I thought when Lorena first wrote to me that Tangy might fit in well with our own barn cats, but when I learned of the deep bond between Tangy and Cutie, and that Cutie is a normal, friendly, playful cat, I realized this was not a workable solution. I also think transporting Tangy to Idaho from Illinois was probably going to be very stressful for her.
What these two cats need is a very particular, very special home, and I am turning to you to help me find that home for them.
They need to go to a person or family without other pets, although it's possible new cats could join the family in the future, after Tangy feels safe.
They need an owner who does not have small children. Although Tangy has no teeth and so her bites are not painful, her scratches are.
They need someone who doesn't just think Tangy needs tons of attention and love to be "normal." Tangy is herself, and has had many traumas and changes in her life. She needs someone who will give her time and space and safety to be herself and learn to trust on her own terms.
They need an indoor home, as Tangy is so fearful it's likely that she would never come out of hiding if she was startled outside, and Cutie has never been outdoors.
Ideally, they need to go to a home within driving distance of Chicago, although if you email Lorena, perhaps some kind of transport could be arranged.
The pay-off is that I believe Tangy will one day come around and trust and love her adopter. In the meantime, Cutie will keep her company and love her, and do the same for his new human — so everyone wins, including you!
Here are Lorena's words about the two:
Despite Tangy's rough past, I feel she is still longing to fit in a home and feel safe and loved.  I think she has come a long way from the scared and distrustful cat that I brought home back in February.  She has learned to trust me, and she even greets me at the door when I come home from work.

Sometimes, I feel that she still is a kitten when I watch her play.  She loves wand toys, boxes, mazes, and most of all, she loves wrestling with Cutie!  They spend hours running and climbing, jumping on each other, chasing each other.

I love watching them play because you can see how much they love each other.  Once they are done playing, Tangy's motherly duties take over as she grooms him until he says, "Ok, I'm done, mom!"

Tangy is also curious like a kitten is.  Anything I do, she is sitting there watching me intently.  If I am at the sink brushing my teeth, she will sit next to the sink and watch me closely.  She will even get close to my face to sniff, as if to say, "Are you Ok? What is that you're doing?"

She loves to swat the water with her paw! She loves when I have the water running. She will stick her paw in the water and shake it as she gets everyone around her wet! If I'm organizing my shoes in the closet, she will sit next to me and watch me, as if she was supervising my work.

Tangy is such a good mommy to Cutie and any foster kittens I bring home.  She grooms them, plays with them, and will even let them eat first.  They have several bowls that they share from, and if Tangy is eating, and another kitten begins to eat from her bowl, she will step back and let the kitten eat first.  I know if given the opportunity and time to adjust to new surroundings, she will make a great companion to someone.

Even if she is not a lap cat, she is still a joy to have around.  She's been through so much suffering, that she may or may not fully trust a human.  But she has learned to trust me, so I know there is hope for her.

As far as Cutie, he is such a goofball.  He loves all toys, boxes, anything he can climb, any kittens he can wrestle with and chase, and of course, playing with his mommy since she lets him play rough!  The kittens do not always like his roughness when playing, but they make sure to let him know and he will walk away and find some other trouble to get into!

Cutie loves looking out the window, just watching cars or birds passing by.  He once sat at the window and watched the rain for about half an hour.

Cutie has a very loud purr.  When he is tired of being active, he will jump in my lap and just fall on his side, purring.  He is such a love bug, although he can also be very skittish.  If he hears a loud noise or something scares him, he will hide.

He is not in any way aggressive, and he has perfect litter box manners, as does Tangy.  Since he has been in my home since he was only a few days old, I know it will take him a few weeks to adjust to new surroundings and new people.  But once he feels safe and comfortable, he will be all over his new family!
Please, my friends, if you have anyone in mind who could be these hard-luck felines' salvation, email Lorena at lorenavilla1978@gmail.com. They need you, and I'm counting on you!