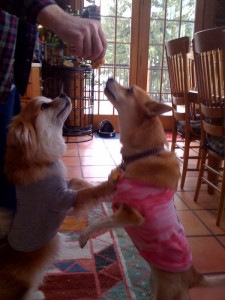 One of the number one questions I get asked as a veterinarian? "What should I feed my pets?"
I don't believe in "one size fits all" pet food recommendations. I like to examine a pet and discuss options with the owner. At Almost Heaven Ranch, we feed our pets a variety of Purina brands, with some well-balanced commercial and homemade treats — but not too many, as we keep all our pets lean!
An article in today's Wall Street Journal took a look at the new wave of pet foods marketed to owners who enjoy cooking for their pets:
Once mainstream shoppers didn't give the ingredients in pet food much thought, Petco's Mr. Sturm says. But it became a consumer concern after a string of pet-food recalls, including one in 2007 that involved chemically-tainted wheat gluten and affected more than 150 brands.

After that, many pet owners began cooking for their dogs and cats, or offering them a raw diet. Experts say it's hard to achieve a balanced homemade diet, though, and eventually the expense and time involved turned a lot of pet owners off—and opened the door to nutrient-rich packaged products that require just a little preparation.

In March, Nestlé S.A.-owned Purina introduced Just Right, an online customizable brand that asks owners questions about their dog, including breed, age, activity level and skin condition, and then helps tailor food to the dog's individual needs.

"We built this brand based on the belief that the best nutrition is personalized," says Brian Lester, Purina's director of marketing for innovation. A cat-food version is in development.
You can read the rest of the article here. But first, tell me: What do you feed your pets?