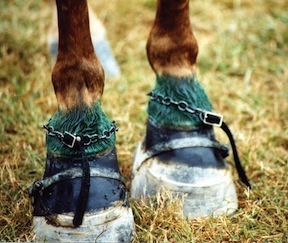 If you've never heard of the practice known as 'horse soring,' there are a lot of horses who wish they never had, either.
Soring is the practice of applying caustic, blistering substances, chains, and other forms of pain, often severe, to get Tennessee Walking Horses to lift their legs up high when moving. This gait is known as "The Big Lick," and it's popular in the show ring.
Right now, two bills are before Congress — one known as PAST, or "Prevent All Soring Tactics" and supported by the American Veterinary Medical Association (AVMA) and many other veterinarians, and one supported by those in the walking horse industry itself.
The Veterinary Information Network has written a great overview of the two bills, which you can read here.
Please take a look, and if you agree with me that this abuse must end once and for all, use this link to contact your congressional representatives and ask them to support the Prevent All Soring Tactics Act (PAST), S.1406/H.R. 1518:
http://avmacan.avma.org/avma/issues/alert/?alertid=62795256
I thank you!
Photo: USDA Animal and Plant Health Inspection Service